Introduction
GrowthEquation helps you get a better understanding of an organization's current state and then uncover the potential within the organization.
Importance
Understanding the drivers of revenue, profit and enterprise value in your organization provides insight as to where you should focus for most impact.
Benefit
Once you have analyzed the results, you will have clarity around where you should focus in order to grow the organization.
Revenue
Having an understanding about your revenue is important as the first step on creating a GrowthEquation plan. The current state of revenue is determined in 3 parts.
1. Revenue from Existing clients/customers.
Total number of Clients/Customers.
Average Annual Revenue per Clients/Customers.
Annual Churn/Annual Total Clients/Customers lost.
2. Revenue from New Clients/Customers.
Annual Leads generated.
Sales Conversion rate from leads percentage.
Annual approximate amount of revenue each customer will generate.
3. Total Revenue
Total revenue from existing Clients/Customers, plus revenue from Clients/Customers.
Expenses
Or the cost to operate is included in creating the GrowthEquation plan so we can have a realistic approach on how your business is impacted when making changes/improvements. Having an understanding on current and incoming expenses is determined below.
4. Cost of Goods Sold
Percentage of COGS based from your total revenue.
COGS amount.
5. Other Expenses
Annual Expenses other than COGS anticipated.
6. Total Expenses
COGS plus other expenses.
Profit and Valuation
This step of the GrowthEquation plan creation process will determine the potential of the business. Some organisations are valued (Valuation) based upon a multiple of revenue. Each multiple revenue might be different based on the industry.
7. Profit
Total Revenue
Total Expenses
8. Valuation
Multiple current Revenue.
Multiple Net Profit.
Valuation based on Revenue multiple.
Valuation based on Net Profit multiple.
Improvement Opportunities
This is the step where you have the enter the details about how much you think you can potentially improve each area (See below).
Revenue Per Existing Customer
Percentage Churn
Lead Generation
Sales Conversion Rate
Average Revenue Per new Customer
Cost of Goods Sold
Expenses
Business Potential
This displays a chart showing the data you had entered from the start of the plan until Improvement Opportunities. A side by side data chart that will give you a comparison of your current state and potential.

Focused Goals
In a business, focus is very important. On the previous screens, we modelled what the organization could potentially look like if you made changes in a range of different areas. Most business owners do not have the capacity to take on many new initiatives at once, so it is helpful to understand which area of focus is likely to have the biggest impact so that you can allocate resources accordingly. It's not ideal to try and optimize everything. Pick something and excel at it. Therefore, it's important to see which changes have the biggest impact (all other things remaining equal). Focused goals came from 4 different areas to improve on. Revenue, Profit, Revenue-Driven Valuation and Profit-Driven Valuation.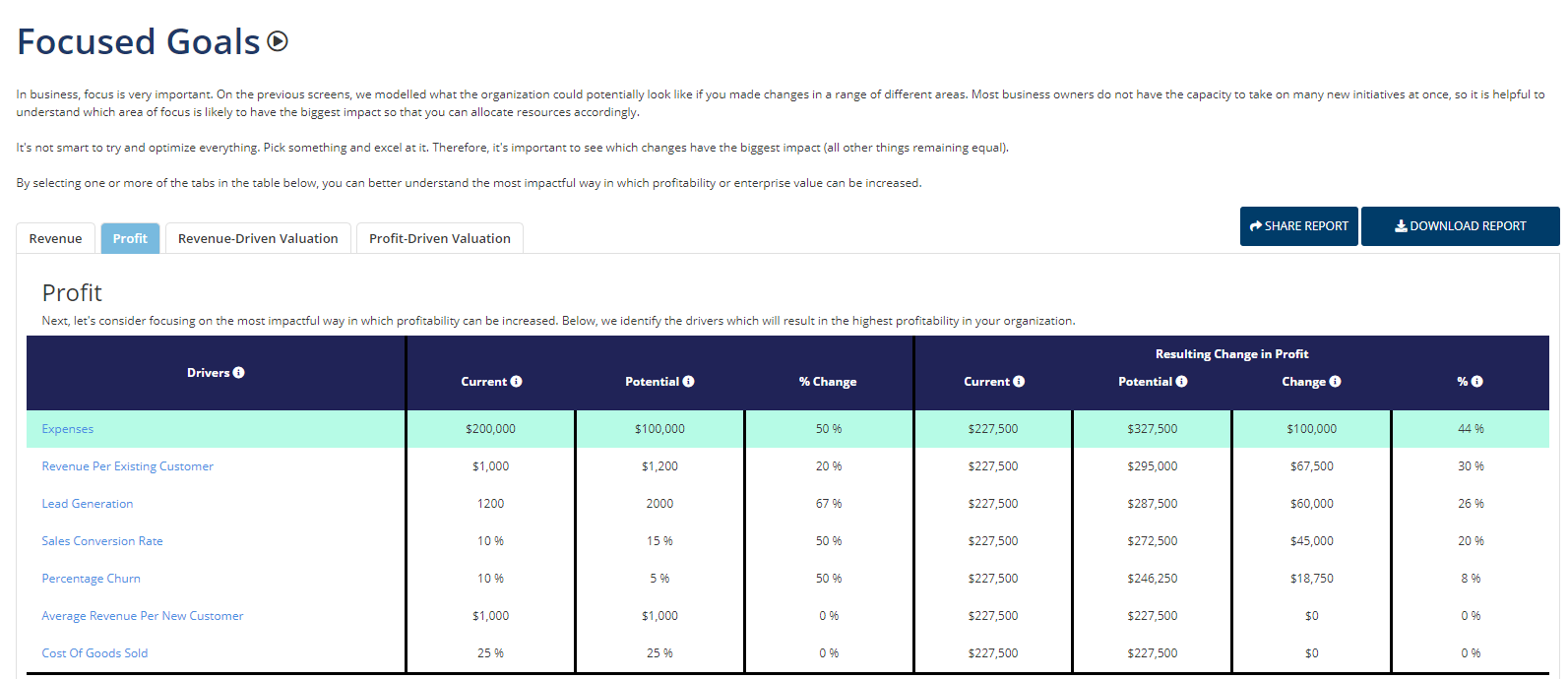 Visit these tabs so you can start making a chart comparison from the 4 different areas of focus mentioned above.

Analysis - The GrowthEquation generates an analysis based on the date that you entered from the previous steps of the plan. It provides you what changes will make the most and the less impact in your business.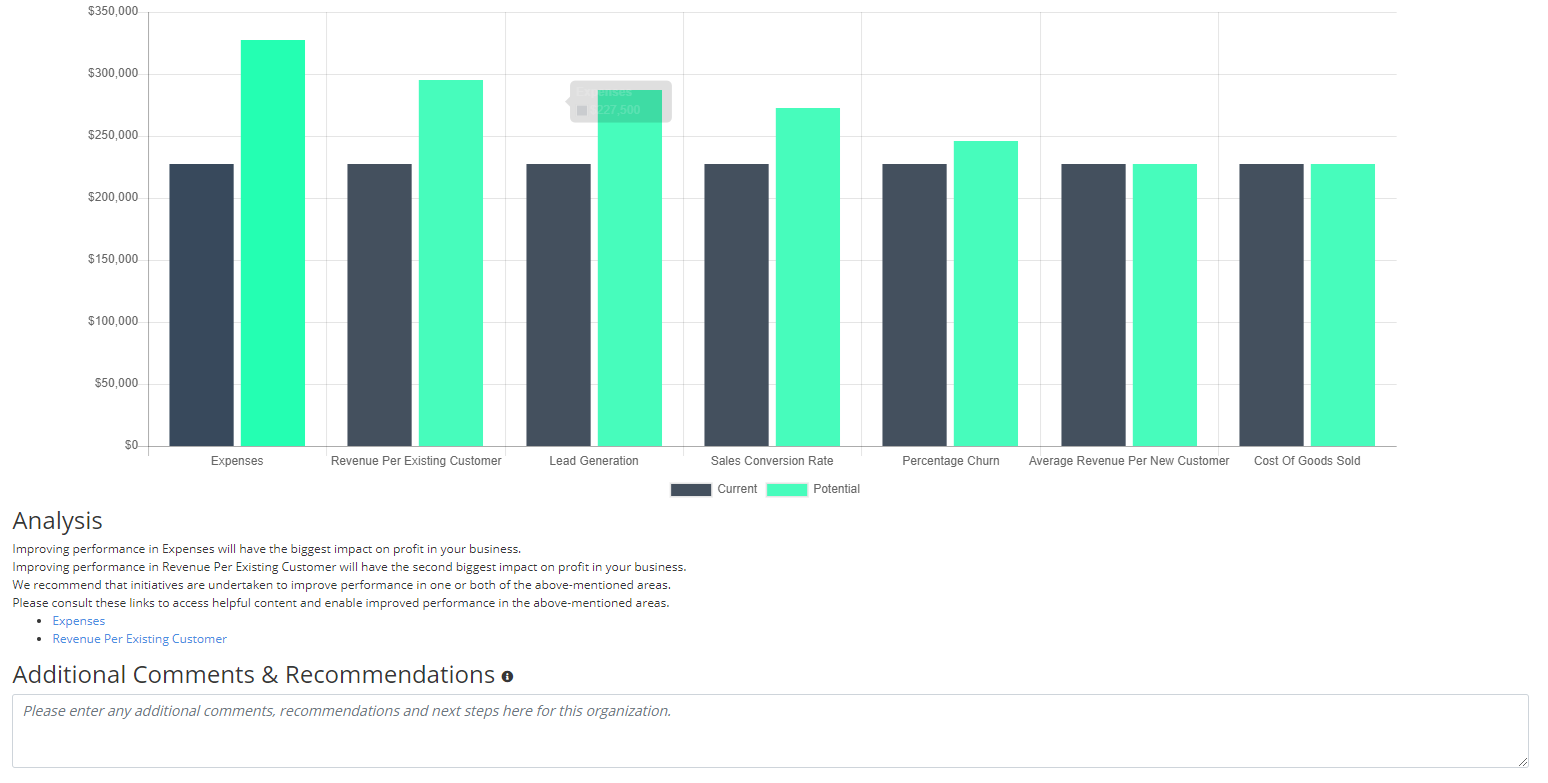 Related Articles: