Introduction
This article will explain how to get access to LearningHub from within your Panalitix.com account.
Subscribed Users
1. Click on the LearningHub navigation item in the left-hand panel.

2. Click on the Get Started button to launch the LearningHub module

3. It will automatically launch you into LearningHub into your own account.
Please note: You will not require any further login credentials to access LearningHub
Non Subscribed Users
1. If you are not subscribed to LearningHub, simply click on My Subscription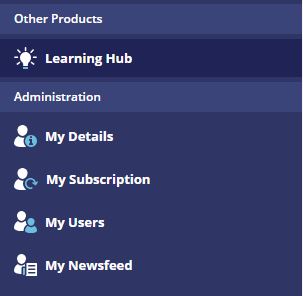 2. Click on the Change Subscription Tab. Here you will find what modules you are subscribed to or not
3. Toggle the LearningHub Subscription toggle on to Subscribed
4. Continue through the remaining billing and payments steps.