Introduction
When uploading your images, videos or media files to MarketingHub, ClientInsights, ClientBuilder and TeamBuilder, it is important to keep in mind the following recommendations to ensure they'll look great! These recommendations are based on the type of content blocks Panalitix.com provides for use in your email campaign or landing page.
In this article, you'll learn about File Size, Media Size, Format, Color Mode or Profile. Alt Text, Layout, High-Definition Screen optimization, and Image Sizing for optimal viewing.
General Tips for Layout
What does a perfect email campaign look like? Perhaps it has a clear message, thoughtful design, eye-catching pictures…People tend to scan their emails rather than read them and subscribers want to perceive a clear message within seconds. However, blocked, broken and messy content can ruin your email campaign, making emails look very different in subscribers' inboxes.
Before you get started with your campaign, here are 5 layout & content considerations:
Focus your campaign so you have one clear message. If you have multiple messages to send, try breaking them up into a series of emails.
Be concise and reduce the length of your email until you can simplify no more.
Create a hierarchy by putting the most important information first for people who are short on time.
Break it up by using headings and bulleted lists to divide content into sections that are easy to understand. This helps draw attention for scanners and skimmer-readers.
Link out information to a blog or page on your website where subscribers can learn more.
Finally, consider having Calls to Action (CTAs) which link readers to external content or ask them to do something. You can link images, buttons, or text. Choose whichever suits your purpose, but don't include too many CTAs in one email or readers won't know what to click.
General Tips for Media File Properties
Image Size
Emails and landing pages have a limited amount of width for images. For specific width recommendations, Panalitix recommends 16:9 aspect ratios such as:
250 width x 100 height (logos)

256 x 133 (HD video size for really poor bandwidth connections of less than 1mbps)

512 x 288 (iPhone/iPod Touch compatible)

600 x 338

700 x 394

800 x 450 (optimal)



Emails and landing pages have a limited amount of width for images so requirements can also vary depending on the type of content block you're working with. We recommend sending yourself a test email to check images display correctly before finalizing your email campaign.
File Size
It's best to avoid overly large images, both in file size and pixel dimensions. We recommend a maximum file size of 1.5MB for images. It is not necessary to calculate the file size exactly every time as MarketingHub, ClientInsights, ClientBuilder and TeamBuilder have a Dimensions panel that can be used to specify pixels. Make sure the 'Constrain Proportions' box is unticked to allow width and height to be adjusted separately. Most 800 x 450 images will equate to 1.37Mb. Panalitix does not recommend uploading images that are significantly larger than the content area of the template.
Video
Most email clients don't support embedded video, so the Video content block automatically pulls a thumbnail, or preview image, from the video and links it to the video's URL. For email campaigns, a thumbnail image from your YouTube or Vimeo video pulls across and overlays a play button icon. The thumbnail is linked to the video URL, so subscribers can click the thumbnail to watch the video in a new browser window. For specific width recommendations, Panalitix recommends 16:9 aspect ratios such as:
256 x 133 (HD video size for really poor bandwidth connections of less than 1mbps)

512 x 288 (iPhone/iPod Touch compact)

800 x 450
You can use videos from our Learning Hub library or other services such as YouTube and Vimeo.
Alignment
Centering media can work if your content is minimal, like one large photo and just a few sentences. If you have more content, left align it to make it more legible. We recommend always keeping alignment consistent across the entire email to maintain harmony.
Format
When you upload images, use PNG, JPG, or GIF format. We recommend using PNG format if you need to retain transparency (ie logo backgrounds). Images used in a campaign need to be saved in a RGB format rather than a CMYK format. Some browsers and email programs can't display CMYK images because CMYK is typically used in print not for web. When uploading an image, it's best to use full-sized images rather than shrinking the image down to match the dimensions of the block you're uploading to. This allows the image to remain in full resolution if it's moved to a wider block in the template.
Alt Text
Also called "alt tags" and "alt descriptions," alt text is the written copy that appears in place of an image on a webpage if the image fails to load on a user's screen. It's a good idea to add alt text to your images as it can also help with search engine optimization for your landing pages and turn your images into hyperlinked search results for search engines such as Google, Bing or Yahoo -- giving your website yet another way to receive organic visitors.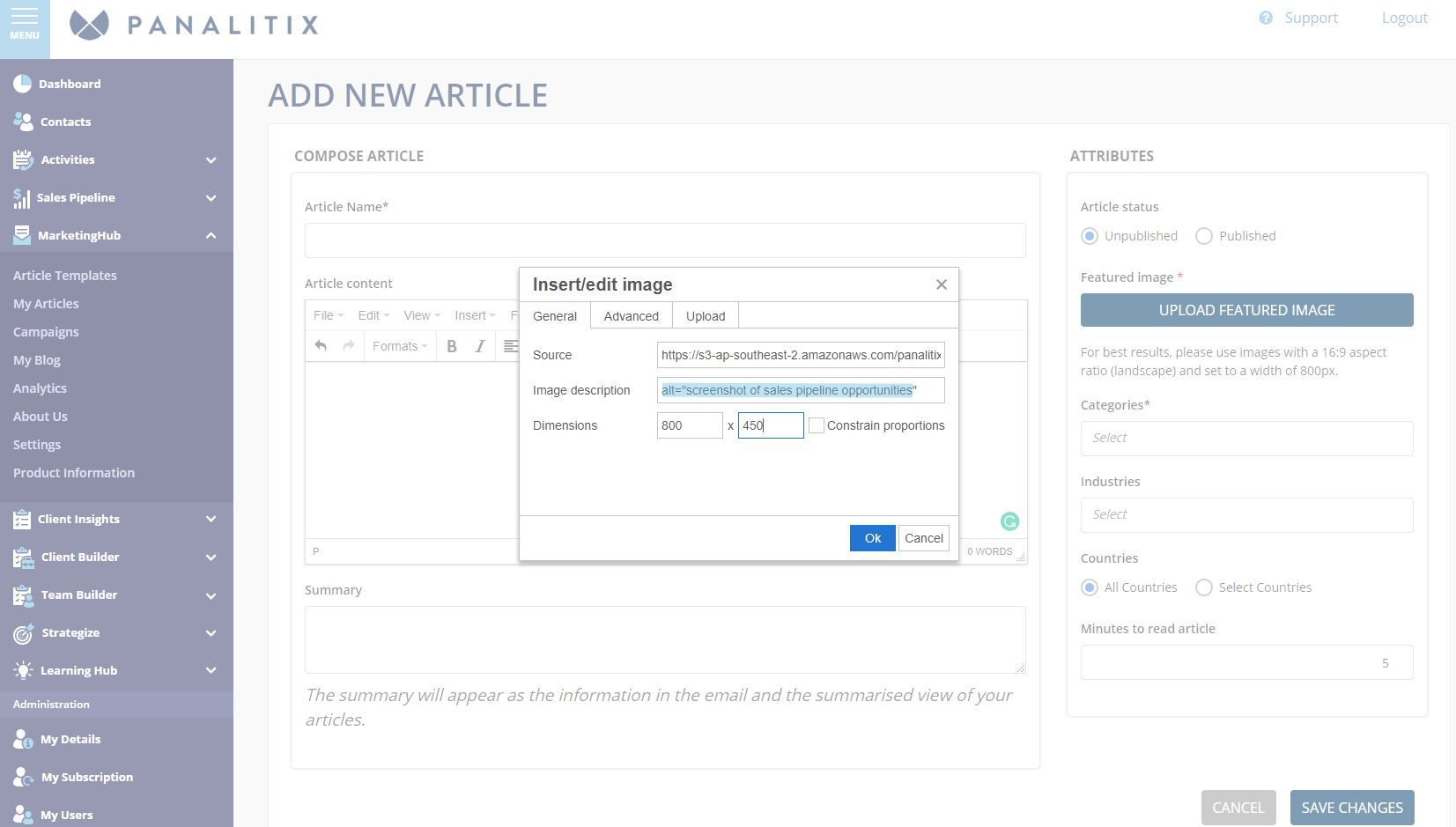 An example of how to add Alt Text to your images within MarketingHub
This text also helps screen-reading tools describe images to visually impaired readers and is essential for accessibility and for viewers who might have trouble downloading your images.
Color Mode or Profile
Colors used online are different from those used in print, so it's important to make sure the colors in your images are set correctly. Web images should be saved with the RGB color profile or mode. CMYK (which is what designers user for print), doesn't render accurately online and can sometimes break your embedded image. If you're having trouble, please contact our marvelous team at support@panalitix.com for further assistance.
High Definition Screens
Sometimes images may appear fuzzy when displayed as many smartphones, tablets, and laptops feature high-definition screens, such as retina displays, that offer a higher ratio of pixels per inch. To make sure your images appear clearly on all screens, you can use a higher resolution photo in an Image content block, and constrain the dimensions.
Panalitix Media Conditions of Use
Panalitix grants permission for its Members to use the images, videos and content from Learning Hub, MarketingHub, ClientInsights, ClientBuilder and TeamBuilder in a commerical manner for their blogs, reports, web pages, powerpoint presentations and other business-related activities as long as the following guidelines are observed:
Credit is given to the respective author.

The URL to the website is included.

On web pages, a link to Panalitix.com is provided.

Only reasonable sized images should be used on web pages. The high-resolution images may not be archived on other websites.

The pictures may not be used to promote or be associated with illegal activity.

Panalitix reserves the right to change this notice at any time.

Panalitix reserves the right to deny usage of the images to individual persons or entities if we deem such usage not to be in the best interests of Panalitix or its alliances.
We would love to see how Panalitix media is being used to help your business beyond potential. Send us a note from the Contact Us page with a URL to your website to share your success.
Non-Member and Commercial Use of Panalitix Media
For non-members or commercial use of photos, content or media please send in a request from the Contact Us page. Under most conditions, your request will be granted although a fee may be involved.
NOTE: Please be mindful and only upload and use media you are licensed to distribute.